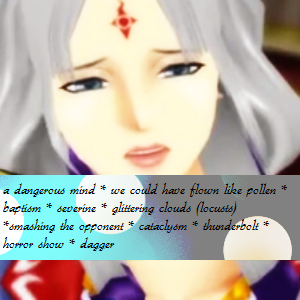 CRAVING MIRACLES
A Suikoden Fanmix

Arshtat is the queen of the Falena Queendom and has always had a reputation as a kind and wise ruler who cares deeply for her two children as well as her husband. This all changes when she opts to bear the powerful Sun Rune to quell an uprising in Lordlake and keep it from falling into the wrong hands. Consumed by its power, she used it against Lordlake, drying up their water supply and turning their land barren as an unneeded punishment. The desire to destroy anyone who opposes her regularly afflicts Arshtat while she bears the Sun Rune, but her loving husband Ferid is usually able to bring her back to her senses. She's still a good person beneath it all and ultimately wants the best for her family and her people, but the power of the Sun Rune has corrupted her. It all comes to a head when the castle is taken in a coup d'etat. Arshtat uses the Sun Rune against the attacking assassins and then decides to destroy the entire queendom. Ferid tries to stop her but she accidentally kills him with the Rune in the process. Arshtat is overwhelmed with grief and in her rage, she tries to go ahead with her plan and is killed by one of her own knights to stop it. She is ultimately grateful to him, realizing what she had become.

"Whoever fights monsters should see to it that in the process he does not become a monster." – Friedrich Nietzsche

The quote by Nietzsche ties into Arshtat's situation. She chose to bear the rune with good intentions, but ended up abusing its power and becoming the type of person she was fighting against.

A DANGEROUS MIND ✶ WITHIN TEMPTATION
I fear that soon you'll reveal
Your dangerous mind
It's in your eyes, what's on your mind
I fear your smile and the promise inside
There is no mercy
Just anger I find

WE COULD HAVE FLOWN LIKE POLLEN ✶ THOUSHALTNOT
Somewhere between the ball and the chain
The resonance of an earlier pain
Begs to feel the angry wind and the rain
And don't you even care?
Somewhere between the mad and the sane
The mind gives in to directionless strain

BAPTISM ✶ CRYSTAL CASTLES
This is your baptism
And you can't forgive them

SEVERINE ✶ EGO LIKENESS
You are the violent thief within
Taking all that I hold dear
You are the gorgeous parasite
Feeding on my fear

GLITTERING CLOUDS (LOCUSTS) ✶ IMOGEN HEAP
I'm not always like this
It's something I become
A terrible weakness in my nature
In my blood
Save me, oh save me, save me from myself
Before I hurt somebody else again

SMASHING THE OPPONENT ✶ INFECTED MUSHROOM
I wish I could retrace all my steps
And erase my mistakes
With you

Tempt me again and I will forget the truth

CATACLYSM ✶ THE SILK DEMISE
[Instrumental]

THUNDERBOLT ✶ BJORK
And I'll never know
From whose hands deeply humble
Dangerous gifts as such mine to come
May I, should I, or have I too often
Craving miracles

HORROR SHOW ✶ THE BIRTHDAY MASSACRE
We try forgiveness but they cross the line
And now the moment has passed and we can't rewind
We are dead long before we run out of time

DAGGER ✶ SLOWDIVE
I love you when you smile
I didn't really lose you
I just lost it for a while

ZIP @ mediafire.